Lumineers® vs. Veneers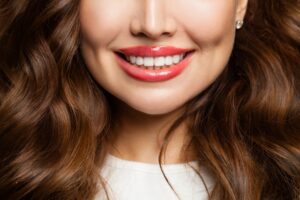 Simply put, Lumineers® are a specific brand of ultra-thin veneers created by DenMat Lab, while veneers are the general name given to thin dental restorations that are placed on the visible front side of teeth to improve their appearance. Veneers can be made from a variety of materials, including composite resin, porcelain, zirconia, and other types of ceramic—each of which offer a variety of benefits and drawbacks that must be considered in relation to the patient's needs, goals, and priorities. Most often, Beverly Hills porcelain veneers dentist Kevin Sands, DDS recommends veneers for the concealment of gaps between teeth, chipped teeth, deep stains and discoloration, misshapen teeth, short and worn teeth, and tooth misalignment. Veneers can be crafted in a variety of shades, shapes, and thicknesses to create the perfect smile for any patient.
Lumineers are marketed as ultra-thin, prepless or minimal-prep ceramic veneers that provide good aesthetics and require only conservative preparation of the treated tooth. Minimal-prep and no-prep mean that only a small amount or none of the treated tooth needs to be removed to accommodate the thickness of the veneer. This conservative approach can reduce treatment-related tooth sensitivity and may mean that veneers can be safely removed in the future if desired, without the need for replacement veneers. Lumineers may also be a more cost-effective option for patients with a more economical budget.
For patients who desire the longest-lasting, and most natural-looking smile makeovers with porcelain veneers, Dr. Sands recommends veneers that are custom-crafted to his specifications by a master ceramicist. For these veneers, Dr. Sands uses only the highest-quality porcelain and ceramic materials fabricated with state-of-the-art techniques, such as stacking and layering, to recreate the natural luster, subtle shade differences, and translucence of beautiful, natural teeth. These materials and techniques can also provide excellent strength and durability. Furthermore, his master ceramicist can create ultra-thin or thicker veneers depending on the needs, goals, and priorities of the patient. Custom, hand-crafted porcelain veneers are the most popular option among Dr. Sands' A-list patients!
If you are considering improvements to your smile with porcelain veneers, please schedule a consultation with Dr. Sands to explore your options. 
Previous Post
Next Post