Porcelain Veneers Candidates
Am I A Candidate For Porcelain Dental Veneers?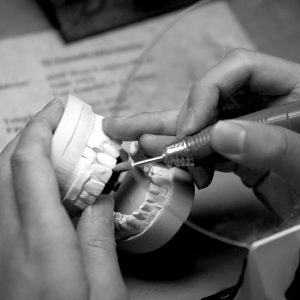 Most individuals with relatively healthy teeth can be candidates for porcelain veneers. Kevin Sands, DDS—who is considered one of the top dentists for porcelain veneers in Beverly Hills—can likely help you achieve a stunning smile with this minimally invasive, virtually painless procedure. Porcelain veneers can make your smile appear more youthful and healthy by covering up any stains and imperfections, which may be caused by years of drinking coffee or wine, the natural aging process, or the use of tobacco products. Treatment with porcelain veneers can also enhance your self-esteem by hiding any distracting chipped teeth and gaps between teeth. Among the many benefits of porcelain veneers, you can correct common dental issues with results that look natural and often last for decades.
Dr. Kevin Sands will evaluate your teeth during an initial consultation to determine if porcelain veneers are the right solution for your needs. Your dental health is of the utmost importance to us, and since Dr. Sands can only place veneers in a mouth with healthy gums and teeth, he may recommend cleanings, fillings, gum treatment, missing teeth replacement, or other procedures before placing porcelain veneers. If he decides porcelain veneers are a suitable option for your needs, Dr. Sands will have them custom-designed for the best possible fit and appearance.
"I have been a 5 year patient of Dr. Kevin Sands and I have loved the work I get done every single time."
You could be a candidate for porcelain veneers if your smile is affected by:
Dental stains and discoloration
Chipped and/or cracked teeth
Irregularly shaped teeth
Unevenness among teeth
Gaps between teeth
Misalignment
Porcelain veneers can be a very effective way to revitalize your smile and your self-confidence. Dr. Sands has provided these effective treatments for people of all walks of life, and he looks forward to helping you enhance the appearance of your smile with stunning results. To see if you may be a candidate for porcelain veneers, please contact Dr. Kevin Sands for a consultation.