Porcelain Veneers

There are many types of dental veneers that can effectively improve both the function and look of your smile; however, porcelain veneers are known to be some of the strongest, most natural-looking, and longest-lasting options available. Cosmetic dentist Kevin Sands, DDS is highly experienced with porcelain veneer treatments, and they are some of the most popular at his Beverly Hills practice. The benefits of porcelain veneers are vast, including the ability to improve the appearance of chips, stains, gaps, and other teeth imperfections with results that can last for decades.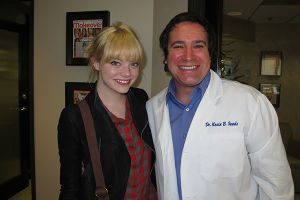 Porcelain veneers are thin shells composed of a durable porcelain material. Custom-designed by a team of talented lab technicians, the veneers are meticulously crafted to mask only the visible portion of the affected tooth. Porcelain veneers are color-tinted to match the shade of surrounding teeth, and they are molded to fit your tooth with results that look and feel as natural as possible. The process typically involves little to no pain and is minimally invasive. Porcelain veneers can dramatically improve the aesthetics and function of your smile!
Porcelain veneers are ideal for closing spaces or gaps, whitening a discolored tooth, and correcting certain types of misalignment. They can also reshape or lengthen the appearance of your teeth.
Celebrities and patients from around the world travel trust Dr. Sands to improve their smile with porcelain veneers and other advanced treatments. As a specialist in the art of cosmetic dentistry, he has pursued advanced training at the prestigious Las Vegas Institute for Advanced Dental Studies. His friendly and approachable manner will instantly make you feel at ease once you visit our practice. During your appointment, Dr. Sands will listen to you closely, answer your questions, and find out how he can help you achieve your smile goals. Many of our patients are ecstatic about how much younger and healthier they feel with their stunning new "Hollywood" smile.
To see if you could be a potential candidate for porcelain veneers, or to learn more about the treatment's benefits and costs, please contact our office to arrange a consultation with Dr. Kevin Sands.